Fly ash bricks machine F9
9 pcs/pressing time equivalent to 17.280 pcs/8h
Ý nghĩa tên gọi F9 The meaning of name F9
- F is the code of fly ash bricks machine with DMCLINE brand name;
- 9 is the quantity of bricks per pressing time with the dimension of 230x110x75mm.
Technical specification of fly ash bricks machine F9
| | |
| --- | --- |
| Designed capacity | 9 pcs/pressing time equivalent to 17.280 pcs/8h |
| Cycled time | 15-25s |
| Pressing method | Static press |
| Dimension of machine | 5200x1750x2800mm |
| Warranty | 12 months |
| Place of origin | DMC, Vietnam |
Technology description of fly ash bricks machine F9-G2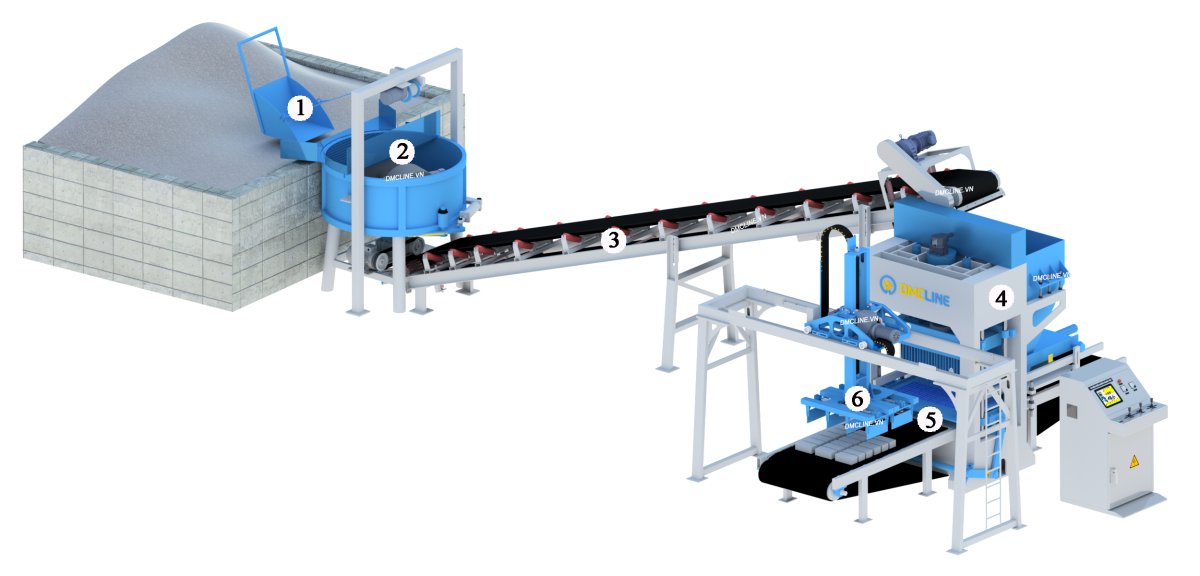 1. Hoist tipping bucket: Hoist the aggregates (grind stone, sand, thermol slag, ect) to pan mixer.
2. Pan mixer: Mix the materials (flyash, crusher dust, cement, water, ect) evenly. The materials mixture after mixing are discharged to belt conveyor.
3. Belt conveyor: Transfer the materials mixture after mixing from pan mixer to bricking making machine
4. Brick making machine: Create a large pressing force to form brick with high quality and stability.
5. Brick conveyor: Transfer brick after forming to the position of brick stacker
6. Brick stacker: Receive brick from brick conveyor and stack into bales
Production process of fly ash bricks machine F9-G2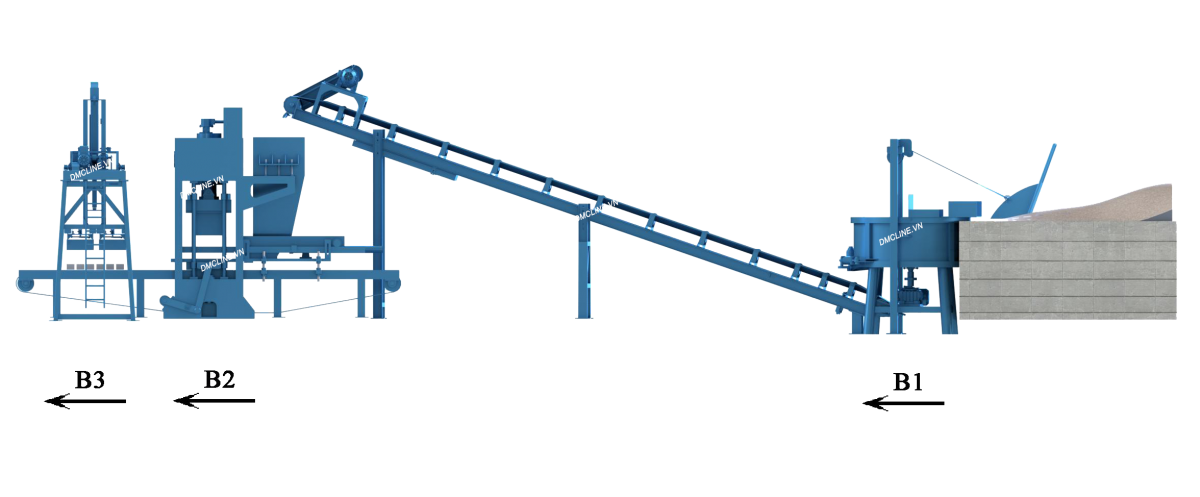 Step 1: The workers feed stone, sand, cement, fly ash and water to pan mixer and mix the materials together.
Step 2: Brick making machine forms brick as the template. The workers must usually check to adjust machine to limit fault product.
Step 3: Brick stacker receives brick from brick conveyor, stack into each bale and workers trasfer to drying yard