Cement tile making machine N8-140T
6-8 pcs/minute or 3840 pcs/shift
Dimension of pressing shaft
The meaning of name N8 - 140T
- N is the code of cement tile making machine of DMCLINE brandname;
- 8 is the duration of 8s per pressing time;
- 140T is the pressing force of 140 tons;
Technical specification of cement tile making machine N8 - 140T
| | |
| --- | --- |
| Capacity | 6-8 pcs/minute or 3840 pcs/shift |
| Pressing technology | Wet press |
| Voltage | 380 V |
| Power | 8.25 kW |
| Pressing force | 125 – 160 tons |
| Dimension of machine | 3100 x 1600 x 2600 mm |
| Weight of machine | 5000 kgs |
| Dimension of pressing shaft | 32 cm |
| Quantity of workers | 4 people |
| Place of origin | DMC, Vietnam |
Technology description for producing cement tile with scale from 1 to 2 tile making machines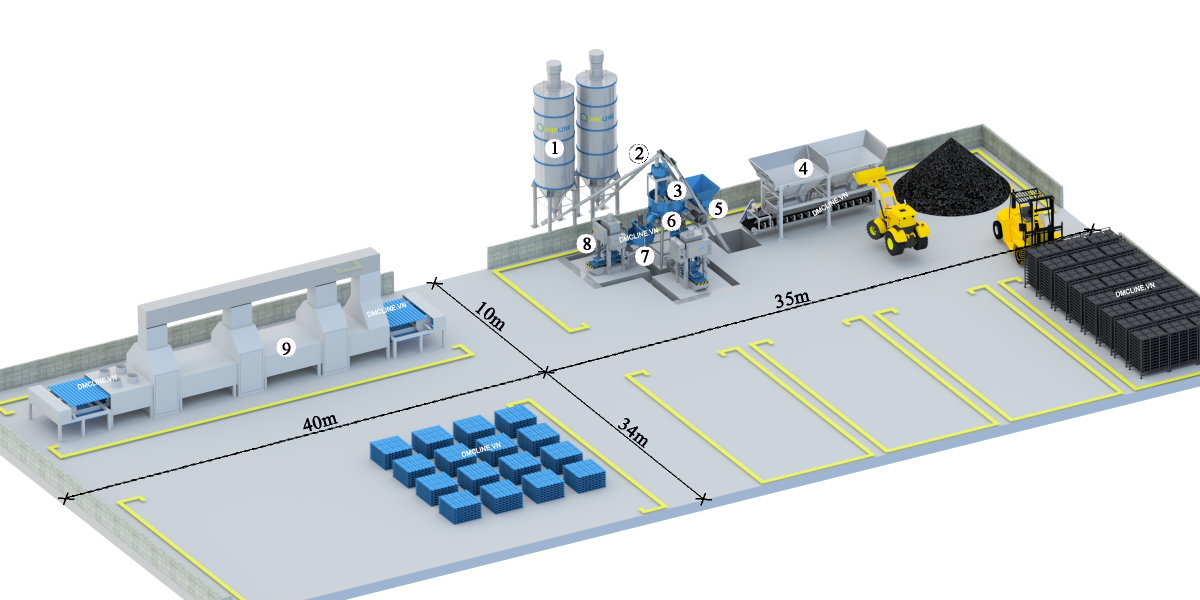 1. Silo: A special purpose storage contains cement. Besides the steady steel structure, it includes dust filtering system, anti-clogging aeration and safety valve
2. Screw conveyor: Transfer cement and fly ash from silo to flyash & cement scale.
3. Flyash & cement scale: Include bucket and scale. Scaled data will be displayed on control center to help workers monitor the production process easily
4. Batching machine: Include two or three materials hoppers. After feeding materials fully into hopper, they will be scaled exactly before transferring into skip hoist.
5. Skip hoist before mixing: Contain and transfer materials to mixer
6. Pan mixer: Mix all materials (sand, cement, fly ash, fiber reinforcement, water) with addition agent evenly as the setting parameter
7. Dosing machine: Contain materials mixture discharged by mixer and measure materials for tile making machine
8. Tile making machine: Create a strong pressing force to form cement tiles with high quality and uniformity
9. 35m automatic painting machine: Having 9 chambers, including the functions such as cleaning, prime panting, cover painting, drying,… ensuring cement tiles with durable and aesthetic color
Production process of color cement tile with scale from 1 to 2 tile making machines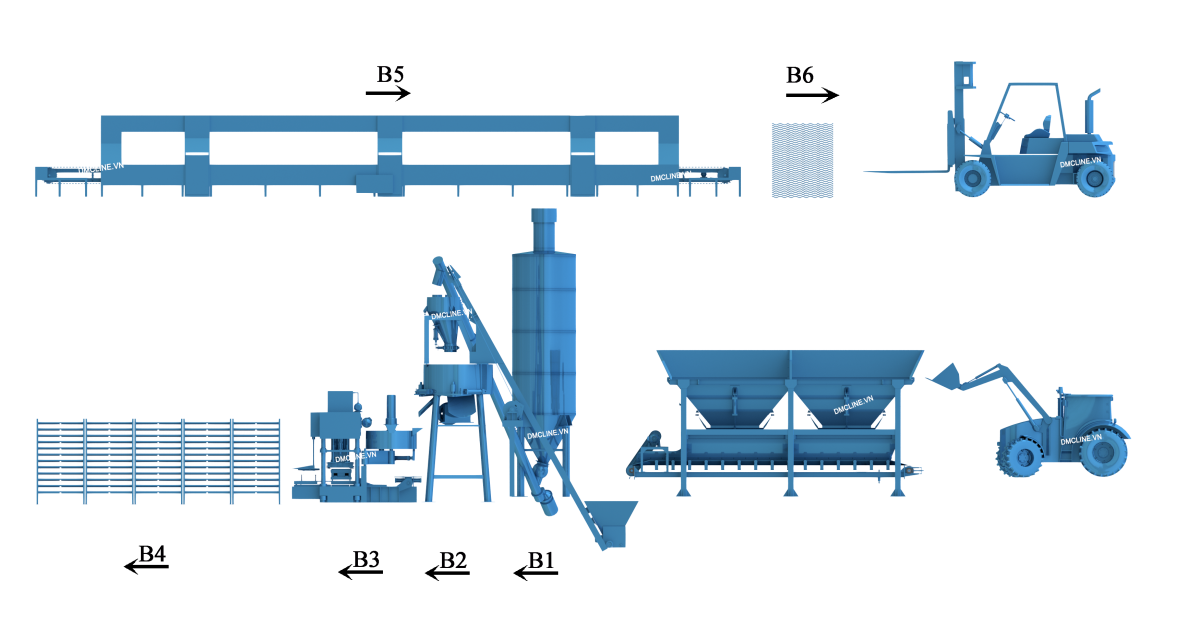 B1: Materials (including clean sand, cement and fly ash) containing in hoppers and silo will be transferred to scale by discharge door and screw conveyor system.
B2: Materials after scaling are transferred to mixer, mix evenly with water and addition agent
B3: Tile making machine forms cement tiles as the mold by static pressing technology. In this process, workers have to feed trays for tile making machine, receive products and stack into brackets
B4: Forklift transfers cement tiles to curing chamber with the maintained time from 10 to 20 hours
B5: Cement tiles after curing are stacked into pallet from 7 to 10 days to ensure strength and moisture then transferred to painting machine to clean, paint and dry.
B6: Pack products, store and sell.
Cement tile mold with best price, high quality, high durability, leading reputation brand. Design the mould as customer's requirements, produce within 15 days, thoughtful warranty
Cement tiles making machine with wet pressing technology, high quality. Maximum pressing force up to 240T, the capacity of 2 million m2/year. Quick tile making machine, leading reputable brand, Dedicated consultancy. Thoughtful warrranty